Vellupillai Pathmathayalan is a Sri Lankan Tamil bishop of the Jaffna Diocese of the Church of South India. He was consecrated on 10th December 2022 in the CSI Synod Centre, Chennai, India. The Consecration service was led by the Moderator's Commissary to JDCSI Bishop Chandrasekaran, Bishop of Trichy Tanjore Diocese. Bishop Pathmathayalan was consecrated by the Moderator. Dharmaraj Rasalam. Adv. C. Fernandaz Rathinaraja, General Secretary of the CSI, Prof. Vimal Sukumar, Hon. Treasurer of the CSI and several other bishops of the CSI were present during the Consecration.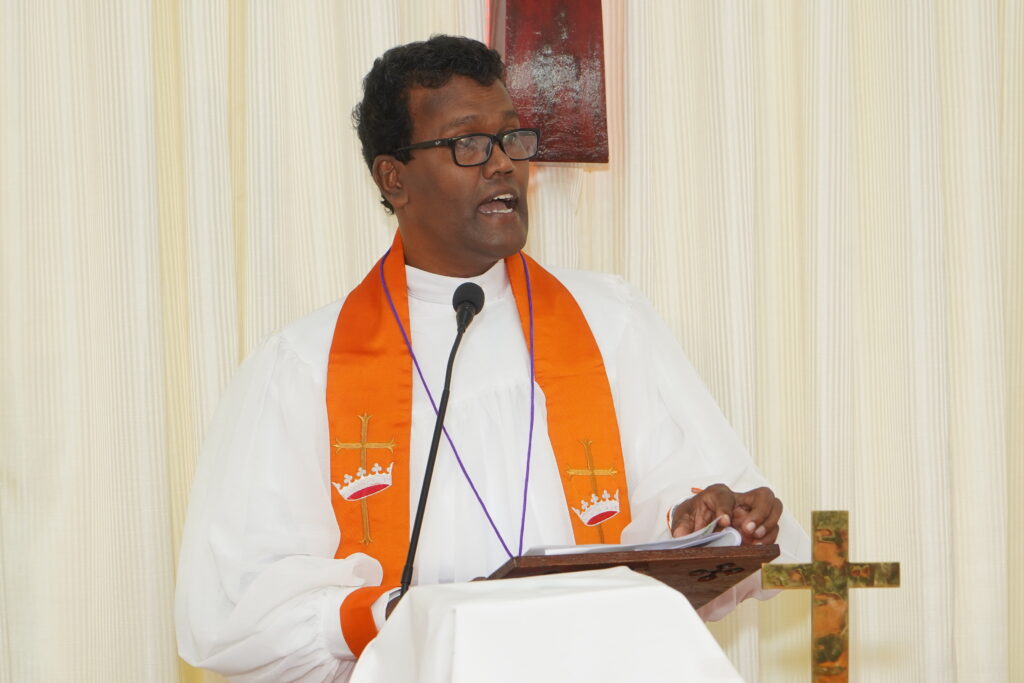 Bishop Pathmathayalan is a Doctor of Divinity holder from the University of Jerusalem, India. He pursued two Postgraduate Degrees: one in Theology (M.Th.) and in the other a Master of Arts in Religion and Philosophy from Madurai Kamaraj University. He completed his Bachelor of Divinity (B.D.) at the Senate of Serampore University, India. He is an alumnus of Jaffna College, Vaddukoddai and the American Mission Tamil Mixed School in Karainagar. The wife of Bishop Thayalan, Mary Vijayananthini Pathmathayalan, is a teacher and their only daughter is Berith Soumiya Pathmathayalan.
An Experienced Pastor as Bishop
Bishop Pathmathayalan has 27 years of ministerial experience as a presbyter. He served several parishes in the war zone during the height of the civil war in Sri Lanka and worked among the most marginalized segments of society. His first ordination as deacon was on 20th June 1997 by Bishop D. J. Ambalavanar. He received his presbyter ordination on 14th May 2000 from Bishop Dr. S. Jebanesan.
Pastoral Ministry in JDCSI

Kalmadukulam (1995-1999)
Jeyapuram (1999-2001)
Anaivelunthan (1999-2001)
Vannerikulam (1999-2001)
Nuwara Eliya (2002-2003)
Pandateruppu (2003-2006)
Jaffna University Chapel (2006-2008)
Colombo (2008-2019) Area Minister (West Council Chairman)
Kilinochchi (2020-2021) Area Minister (Kilinochi Council Chairman)
Anaikoddai & Sandilipay (from 2022 to date)

"Come, let us rebuild the wall of the Jaffna Diocese"
In his address after the consecration, the Rt. Rev. Dr. V. Pathmathayalan said:
"As a pastor who has been serving the JDCSI for the past 27 years, I affirm that the life and work of a bishop is to fulfill God's divine purpose in this world and serve the people as revealed through the life and work of our Lord Jesus Christ. When the JDCSI was established as a church on 27th September 1947, it began its journey to become a parable of unity, a beacon of hope and an aroma of the Gospel. However, when we look back at the history of JDCSI, it travelled in the midst of dark clouds gathering on the horizon, both for the Church and the community. Thus, keeping these realities in mind, I would like to present my vision and mission to uplift the church, as servant leader of the Church.
Bishop Dr. V. Pathmathayalan designed the new mission and vision statements after revisiting the mission and vision statements of the JDCSI and examining how we as a Diocese want to grow in ministry. His vision statement was crafted to reflect who we have been as a diocese so far and what we want our diocese to be as we move forward together.
"Come, let us rebuild the walls of Jerusalem so that we will no longer be a reproach."
"Our vision is that we want to be a welcoming community that actively includes all members, sharing the Gospel of grace with those who have fallen away or who do not belong to any church. It is to be a local church that prizes a diversity of cultures and gifts and uses those gifts to the fullest extent allowed in our tradition. It rejoices that through baptism 'there is no longer Jew or Greek, there is no longer slave or free, there is no longer male and female; for all are one in Christ Jesus' (Galatians, 3:38). It is a church of families and individuals, of priests and lay leaders. Trusting in such a vision is no idle dream but the very promise of the Gospel. As Bishop, I urge the JDCSI, in the spirit of oneness, to work with me in making plans to move us toward this ideal."
There are nine bishops from 5 Indian states who were present at the historic Consecration service. They are: Rt. Rev. Dr. Oommen George, Bishop, Kollam-Kottarakkara Diocese, Rt. Rev. T. George Cornelious, Krishna Godavari Diocese, Rt Rev. Padma Rao Kodirekka Bishop, Dornakal, Rt. Rev. Dr. D. Jeyasingh Prince Prabhakaran, Bishop, Diocese of Madurai Ramnad, Rt. Rev. Martin C. Borgai, Bishop of Karnataka Northern Diocese, Rt Rev Hemachandran, Bishop of Karnataka Southern Diocese. On behalf of the JDCSI, Rev. Dr. D.S. Solomon, Secretary of the Diocese, Presbyters Rev. Sathees Daniel, Rev. T. Dixshan, Rev. W. Jebasingh Samuvel and Mr. Pathmanathan, elder brother of Rt. Rev. Dr. Pathmathayalan, and other lay people of the Diocese were present.
Let the blessings of our Lord and our God be with you, to guide and strengthen you in the discharge of our onerous responsibilities.
Bishop Pathmathayalan's Consecration clippings
Former Bishops of the Diocese